SPOILER ALERT!!! This article contains spoilers from the Netflix series Atypical…specifically, Season 2, Episode 6 ("In The Dragon's Lair").
As a person with autism, I've been following and watching the Netflix series Atypical and can personally relate to a lot of the struggles that the main character, Sam (Keir Gilchrist), and his family are facing.  This includes past encounters that I've had with police and first responders.  While most of these encounters were productive and ended smoothly, others went terribly wrong and could have resulted in me being killed!  Thankfully, I'm still alive today and haven't been arrested or imprisoned to this day.  Some of my peers, unfortunately, haven't been so lucky for a number of reasons.  As a result, I now dedicate my life to teaching others, namely police, first responders, instructors, etc. what to know when it comes to autism and interactions with the police.  Furthermore, I stress the necessity of why police AND youth with autism need to be taught about potential encounters with one another instead of only one party bearing the burden.
In the episode named above, while Sam seeks to get out of his comfort zone by sleeping overnight at his friend Zahid's (Nik Dodani) house, Sam became overwhelmed by the experience and left Zahid's house late at night without letting Zahid know.  While walking the streets in his pajamas and favorite hoodie, a police car came up to Sam and Officer Timms (Jeremiah Birkett), suspecting Sam is on drugs, got out of his car and approached Sam on foot.  Already overwhelmed by the sleepover, rather than staying where he was and talking to Officer Timms, Sam kept walking and began reciting to himself the four species of Antarctic penguin repeatedly in order to sooth himself.  Walking alongside Sam, Officer Timms grew increasingly frustrated with Sam's lack of compliance to his commands.  Zahid eventually caught up to Sam and explained to Officer Timms that Sam has autism.  Officer Timms, unfortunately, proceeded to arrest BOTH Sam and Zahid.  The two were taken to the police station and were eventually released without being charged.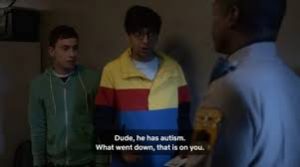 The incident prompted Sam's paramedic father, Doug (Michael Rapaport), to have a talk with Officer Timms about what happened. Officer Timms explained he didn't know Sam was Doug's son, but that he still had a job to do and had to look out for his own safety first. Officer Timms's solution was to have Doug put his phone number on the back of a photo of Sam and place the photo on a bulletin board in the police station so if another incident occurred, people would know who to call. This wasn't satisfactory to Doug or his wife, Elsa (Jennifer Jason Leigh). The two of them then became determined to put together a training to instruct police officers and other first responders on what to expect in encounters in people with autism and how to help them. Their research continued into subsequent episodes of the season and, by the season finale, no training of officers or first responders had taken place as of yet.
I call to your attention the 20+ years experience that my mother and I have on the topics of autism and interacting safely with the police.  Emily Iland is a past president of the Autism Society of Los Angeles, lead trainer on autism for the Los Angeles Police Department (LAPD) and creator of Be Safe: The Movie (www.besafethemovie.com) and Experience Autism (www.experienceautism.com) which is the only evidence-based police training on autism in America!  She and I are subject-matter experts on the topics at hand, based on personal and professional experience, and have the most potential to bring out the best in the future episode(s) of Atypical featuring the police training(s).  This show has received negative reviews for not involving individuals with autism in the past.  Efforts have since been made to rectify this situation and now it's time to kick things into high gear and really leave a lasting impact with the show's viewers which could save people's lives!
To conclude, like many episodes before and after "In The Dragon's Lair," Atypical has shone light on many issues that require our immediate attention, for the safety, well-being and progress of our young people with autism are at stake.  I hope that Robia Rashid and the Atypical writers will carefully and completely consider me and my mother for any and all future consultations on the episode(s) featuring police training in the next season of Atypical, for the planning, research and work that have been proven effective over and over have already been done.  I have no doubt that this show will be renewed for a third season and our involvement and experience can help lead to a fourth and even a fifth season!